Starbucks Pink Drink is a sweet and fruity treat made with herbal tea, coconut milk, and strawberries. It's perfect for people who do not drink caffeine, children, and those who want a street treat.
This post contains affiliate links. As an Amazon Associate, I earn from qualifying purchases.
On a hot summer day, you know that pink drink Starbucks serves is calling your name. But who wants to pay Starbucks' prices? If you can't escape your cravings for the sweet and tangy thirst-quenching taste of Starbucks Pink Drink, but don't want to go broke, try making it at home. This homemade Starbucks Pink Drink recipe is caffeine-free, so you will feel good about allowing everyone in your family to enjoy it. And it is a good thing that the recipe is so easy to prepare because once you make it, it's sure to become one of the most request summer treats in your house.
What's in a Starbucks Pink Drink?
While it may look a bit fancy, you can probably pick up everything you need to make it at the supermarket.
The ingredients for Starbucks Pink Drink are TAZO Passion Herbal Tea, white grapefruit juice, coconut milk, standard simple syrup, and strawberries for a garnish. You can use your favorite brands for most of the ingredients, but you must use TAZO Passion Herbal tea. After all, it is the secret to the beautiful color and complex tartness of this drink with its hibiscus flowers, orange peel, rose hips, passion fruit, and cinnamon. If you can't find it locally, you can order it online.
The one unusual ingredient you might not be use day-to-day in your kitchen is coconut milk. Coconut milk is not the same as the coconut water you are probably more familiar with since many companies market it as a natural sports drink. For this recipe, you need the taste and thicker consistency of coconut milk. You can find coconut milk in cans, but be careful not to pick up a can of cream of coconut instead. Cream of coconut is a much thicker and sweetened variety of coconut milk.
When shopping for the white grape juice, look for low sugar or a no-sugar-added variety since you will be adding plenty of sweetness in the form of the simple syrup. For the pinkest drink, you should buy the palest white grape juice you can find.
Tips For Making and Serving Homemade Starbucks Pink Drink
Make it by the pitcherful. Why waste time making each drink individually? Just make a larger batch by multiplying the recipe by four. Make it early in the day and store it covered in the fridge. Leave the strawberries out, and then add them into each individual glass along with ice.
Make it a Pink Drink slushie. Everyone loves a slushie when it's hot outside, and it is easy to transform this drink into one. All you need to do is prepare the tea in advance. Let it cool to room temperature, and then stir in the white grape juice. Freeze the mixture in an ice cube tray. When you want to make a Pink Drink slushie, put the coconut milk, simple syrup, and strawberries into the blender along with frozen cubes of tea and white grape juice. Blend until smooth and serve. Try with a shot of rum for an island-inspired cocktail.
Catch up with our latest recipes by becoming a Facebook friend.
Ingredients
Here's a list of what you need:
Water
Sugar
TAZO Passion Herbal Tea 
White grape juice 
Coconut milk 
Strawberries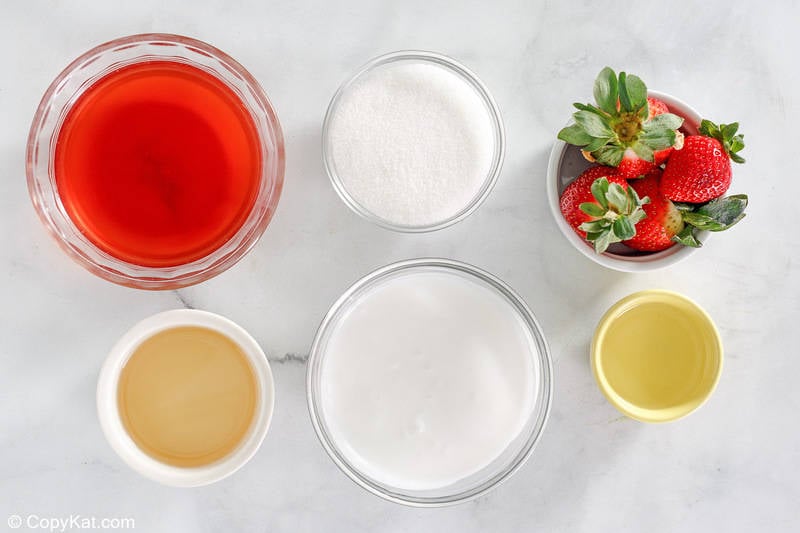 How to Make Starbucks Pink Drink
Prepare simple syrup by placing water and sugar into a saucepan.
Heat on medium-high just until mixture begins to boil, stirring occasionally until the sugar has dissolved.
Allow the simple syrup to cool to room temperature.
Prepare one bag of tea in a cup of boiling water.
Steep tea for five minutes.
Allow the tea to cool to room temperature before you make the drink. 
Add simple syrup, half of the tea, and white grape juice to a glass. Stir well.
Add additional tea to fill the glass three-quarters full. Stir well.
Add coconut milk and stir well.
Add chopped strawberries and serve immediately.
Love Starbucks? Try these copycat recipes!
Iced coffee and tea drinks and frappes to cool you down on a hot day.
Favorite Summer Drink Recipes
Be sure to check out more of my restaurant drink recipes and the best copycat Starbucks recipes here on CopyKat.com!
The post Starbucks Pink Drink appeared first on CopyKat Recipes.