You will love this super easy and delicious copycat Marie Callender's banana cream pie recipe. It has fresh bananas and a wonderful creamy filling.
This post contains affiliate links. As an Amazon Associate, I earn from qualifying purchases.
The Best Banana Cream Pie Recipe
This recipe is simple, yet delicious and full of that creamy banana flavor. You will be using fresh bananas and making your own cream filling.
It also has a homemade whipped cream topping to finish off this Marie Callender's banana cream pie. Which in my opinion is the best banana cream pie recipe to copy!
It is just like the old-fashioned banana cream pie that your grandma would have made for your family get-togethers. Now with this recipe, you can make your own homemade banana cream pie.
Homemade Banana Cream Pie Ingredients
One thing I love about this recipe is that you can make this recipe from everything you may already have in your kitchen!
Here's a list of what you need:
Baked pie crust
Bananas
Cream cheese
Sugar
Cornstarch
Salt
Evaporated milk
Whole milk
Egg yolks
Butter
Sliced Almonds
Vanilla extract
Healthier Variation
To switch up the cream cheese with a little bit healthier option, you can use Neufchatel. It is similar in texture to cream cheese but lower in fat and higher in calcium.
Also, if you want to lower the sugar content, you can swap out the sugar for stevia or organic cane sugar.
How to Make Banana Cream Pie
Heat the sugar, cornstarch, salt, evaporated milk, and milk until it thickens and boils for a minute.
Then you will carefully mix together the hot milk mixture with the egg yolks.
After the eggs are incorporated you will heat everything again until it begins to boil. Then you need to add in the cream cheese and mix it all together.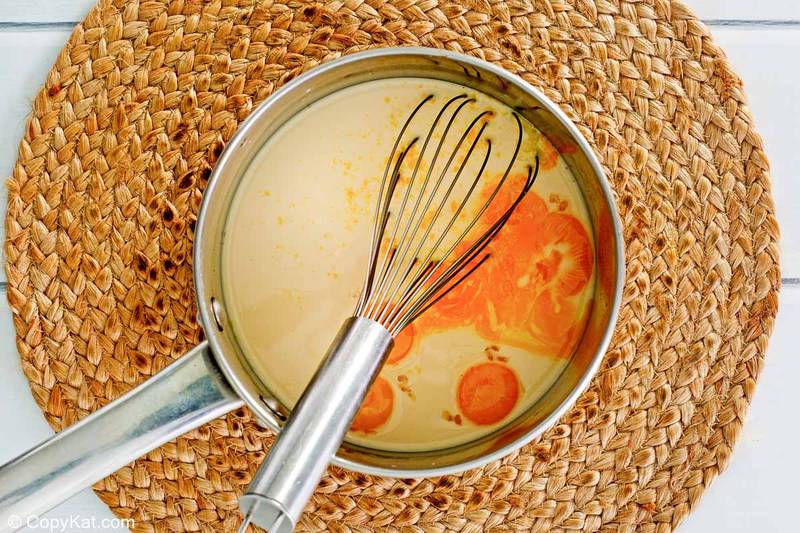 Take the pan off the heat and add in the vanilla and butter and mix it until it is combined and let it stand for 15 minutes.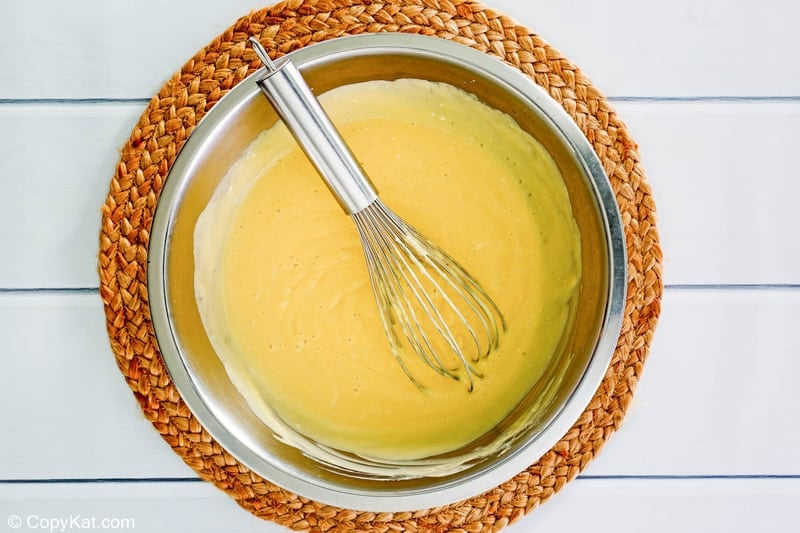 Then just pour it into the baked pie shell, putting a layer of bananas halfway through.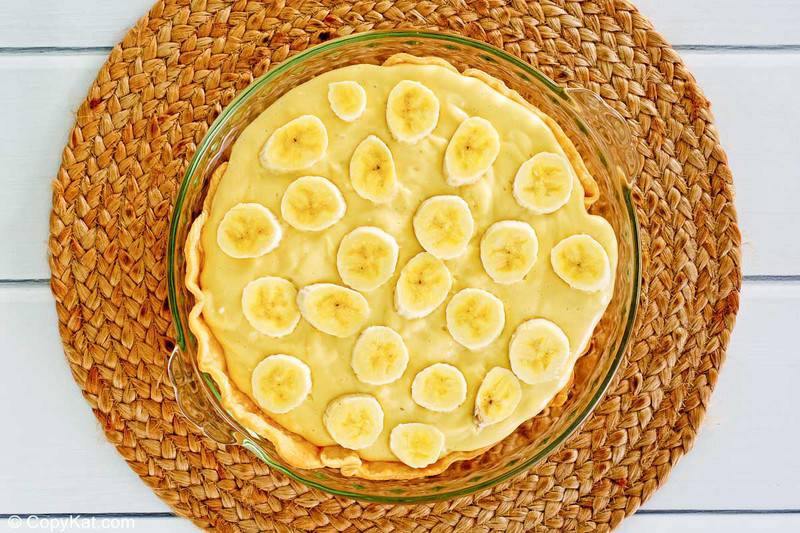 Mix up all of the whipped cream ingredients and top the banana cream layer with the freshly made whipped cream and garnish it with sliced almonds.
How do you blind bake pastry?
When you bake pie pastry, it can balloon up. So in order to avoid this, you need to use a fork to poke holes into the bottom of the pan.
After you have done that, line the crust with parchment paper and pour in some dried beans. The beans will help weigh down the pie crust while it bakes and forms into the pan.
Should frozen pie crust be thawed before baking?
For the best results, yes the frozen pie crust should be thawed before baking it. When you use a frozen crust you cannot form the crust the way you need it and can also add more moisture into the pie and could result in a soggy pie.
How do I keep my bottom pie crust from getting soggy?
In order to avoid getting a soggy crust, you need to make sure that the crust was thawed before baking the pie. Also, make sure the crust is completely baked through before adding in the creamy banana custard.
How do you keep bananas from turning brown in a banana cream pie?
This is a fun trick. By treating the banana slices with a form of citrus, like lemon juice or orange juice (just a little) before you put them in the pie, you can slow down the oxidation reaction which is what turns the fruit brown.
Why is my banana cream pie so runny?
The reason for this normally is because the filling was not boiled for long enough. There are a lot of complicated chemical reactions that take place during that time, and if the filling was not able to get thick enough during that time, then it might not have had time to set up enough.
Does banana cream pie need to be refrigerated?
Yes, Marie Callender's banana cream pie does need to be refrigerated. The pie contains both eggs and dairy so it requires being chilled.
How long does banana cream pie last?
When you keep the pie in the fridge it will last up to 4 days.
Can you freeze banana cream pie?
Yes, and it is so good! It almost turns into a banana ice cream pie. Just let it sit out for about 10 minutes to let it soften to make it easier to cut and serve it. When frozen, the pie can last 4-5 months if stored properly.
How far ahead can you make banana cream pie?
Since this pie does have fresh fruit in it, I would not suggest making it more than a day in advance. Otherwise, the fruit can potentially get too soggy and begin to turn color before it is eaten.
Favorite Banana Recipes
Popular Pie Recipes
Check out more of my easy pie recipes and the best copycat restaurant recipes here on CopyKat!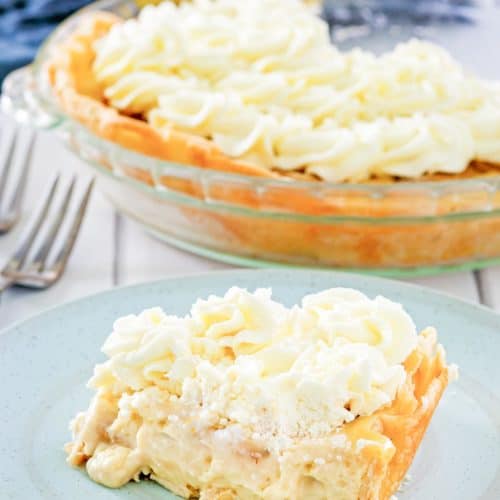 Print
Add to Collection Go to Collections
Marie Callender's Banana Cream Pie
You can make an old-fashioned restaurant-style banana cream pie like Marie Callender's with this easy copycat recipe.
Ingredients
Banana Cream Pie Crust and Filling
1

9-inch

pastry pie crust, baked and cooled

2

bananas

sliced

1/4

cup

whipped cream cheese

softened

2/3

cup

sugar

1/4

cup

cornstarch

1/2

teaspoon

salt

1 1/2

cups

evaporated milk

1 1/2

cups

whole milk

4

egg yolks, beaten

2

tablespoons

butter

softened

1/8

cup

sliced almonds

1

tablespoon

vanilla extract
Fresh Whipped Cream Topping
3/4

cup

chilled whipping cream

2

tablespoons

powdered sugar

1

teaspoon

vanilla extract
Instructions
Banana Cream Pie Crust and Filling Directions
Place sugar, cornstarch, salt, evaporated milk, and whole milk in a 2-quart saucepan. Stir to combine.

Cook over medium heat stirring constantly until mixture thickens and boils for 1 minute.

Remove the pan from the heat and slowly pour half of the hot mixture into eggs and stir until that mixture is completely incorporated.

Pour the egg mixture into the pan with the other half of the pudding and continue to cook on medium heat until it begins to boil again.

Add cream cheese and mix thoroughly with a hand mixer. It will dissolve the cream cheese better and make the pudding lighter and creamier.

Remove the pan from the heat and add vanilla and butter. Mix using the hand mixer until all is blended.

Let the filling stand for 15 minutes.

While the filling is still warm, pour half of the filling into pie crust.

Place banana slices on top of the filling.

Pour the remainder of the filling on top.

Cool the pie completely. Do not put whipped cream on a warm pie because it will melt the topping.

Top the pie with fresh whipped cream and garnish with sliced almonds.
Fresh Whipped Cream Topping Directions
Pour chilled whipping cream into a glass or metal bowl and beat until soft peaks form.

Gradually add powder sugar until all has been blended.

Add vanilla slowly until it has also been blended. The whipped cream should have stiff peaks.

Spread the whipped cream over the pie. The whipped cream may be put into a pastry bag and piped onto the pie for a decorative effect.
Nutrition
Calories:
502
kcal
|
Carbohydrates:
52
g
|
Protein:
9
g
|
Fat:
28
g
|
Saturated Fat:
14
g
|
Cholesterol:
162
mg
|
Sodium:
379
mg
|
Potassium:
416
mg
|
Fiber:
1
g
|
Sugar:
30
g
|
Vitamin A:
855
IU
|
Vitamin C:
4.3
mg
|
Calcium:
223
mg
|
Iron:
1.2
mg
The post Marie Callender's Banana Cream Pie appeared first on CopyKat Recipes.